Turns out, if you build it they WILL come. How a big bet on cycling by the Walton family has returned huge dividends to the region.
The Problem
The Walton Family Foundation's mission is to invest and promote the Northwest region of Arkansas; home to over 300 miles of mountain biking trails that are individually owned and operated. So they saw the opportunity to create a parent brand that brought them all together. This would be a brand that highlighted each trail's unique elements while using the power of numbers to highlight the entire region. Telegraph was then tasked with making this dream a reality.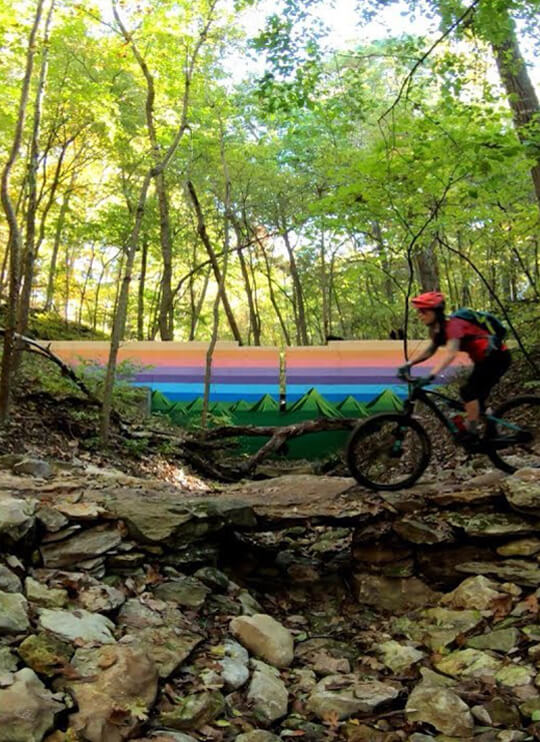 The Solution
We knew this project wasn't going to be completed behind a desk, so we traveled to Bentonville, Arkansas, biked the trails, met the Walton family to understand their vision and even met some locals to better experience the impact of these trails in their community.
Before we started concepting names and a brand identity, we had to do in-depth research. We wanted every detail to be about the location, so we took into account elements like state history, local native american culture and language, the history of the environment and more. One detail always kept coming back: the Ozarks. These treescapes lined the biking trails, giving them an enchanting tone, very similar to a recognizable "yellow brick road." Thus, the name Oz Trails was chosen.
Execution
Every detail that followed was an intentional connection to the landscape. Elements like the state outline and modern take on the mountains we included to call back to the location of Oz Trails.
"The colors for the brand came naturally, chosen directly from the sensational sunsets over the rolling Ozark Mountains."
"We found a welcoming and vibrant mountain-bike community that's building high-quality trails at a rate we've never witnessed before."
- Bike Mag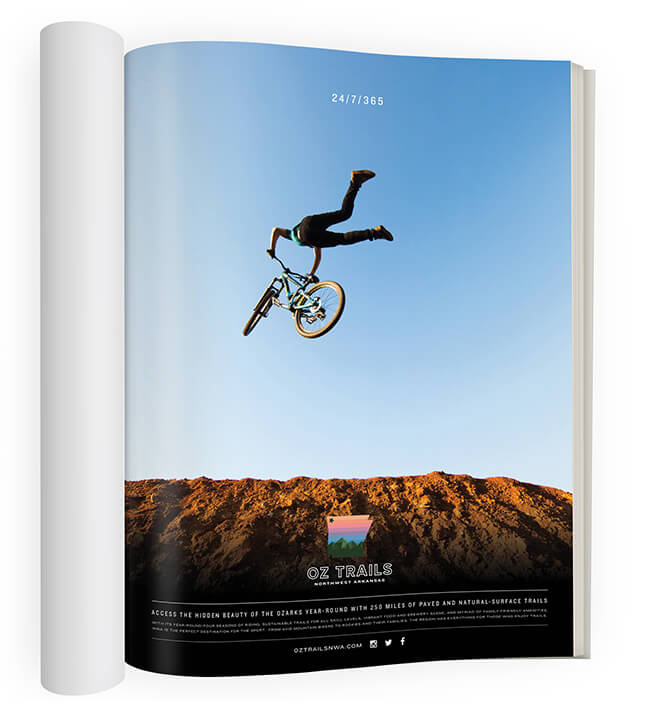 Data & Results
Most times the results of a project are filled with numbers and statistics, but just like every other phase of Oz Trails, the results are unique as well. While this area has seen the expected spike in tourism and travelers, it also had a profound impact on the community. For the first time, the community had a chance to rally behind a common cause and brand that reflected their geography, which is now an integral part of the region's culture. The Oz Trail brand and message can be found in local museums, park benches, airport displays and more, reminding locals and visitors alike - a brand can really come to life when the rubber hits the road...or trail.